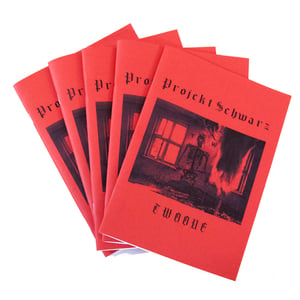 $

25.00
14.8x21cm, 22 page zine.

Limited edition of 200
come in RED and ORANGE cover, if you have preference, please mention on the order, if not it will be chosen randomly
"PROJEKT SCHWARZ" is a series of painting by TWOONE / Hiroyasu Tsuri.
This series has been painted at Abandoned locations "forgotten places" within and surrounding Berlin, Germany.
This book is a documentation of this series of work, and it's surrounded environment.
Due to the history of the locations, most of the location used to be used by militaries and it's associations.
All the paintings and photographs made during 2014-2020 in Berlin, Germany, by the artist, if not some photography by Anders Gjennestad.
This zine is self-produced by generic house printer(Canon MG3650)
please be aware the printing is intentionally inconcistant, and I have kept some of the distress pages as I like the characteristic of suits to the contents, and it's part of the process.
more images HERE
https://www.instagram.com/p/CJ4ejDHASFF/?utm_source=ig_web_copy_link