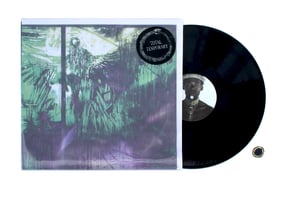 $

55.00
"A-UN" is a TOTAL TEMPORARY's debut 12' vinyl package releasing JULY 2021.
Companied with 12page newspaper styled book.
Limited edition of 250
This Pre-Order comes with 2.5cm diameter Ouroboros pin.
*Please note that Pre-order will be shipped out on 01/August/2021.
The recording from the live performance "TEST STGE Vll" at Hosek contemporary Gallery on 25/08/2021, This gallery is a boat floating on the spree at centre of Berlin.
you can hear the sample of the sound here>
https://soundcloud.com/user-526555717
The Vinyl comes with 12 pages newspaper styled art book, features documentation of our previous performance, and related artworks.
All sounds are composed and recorded, footage captured and art constructed together by Hiroyasu Tsuri, Christiania Krueger, and Joshua Murphy as one
Total Temporary.
Total Temporary is a mixed multimedia project, combining mediums of sound art, visual, film, and digital art.